Breitling X

Ironman

On your toughest stretches and steepest climbs, what drives you to push through to the finish? You have the physical ammunition to keep you going. Let the Endurance Pro IRONMAN® or IRONMAN® Finisher be another tool in your arsenal. Considered one of the toughest and most rewarding sporting events in the world, the IRONMAN triathlon begins long before the starting shot sounds. Since 2021, Breitling has teamed up with IRONMAN as its official luxury watch partner to recognize this inspiring personal achievement and the months—or years—of training that went into it.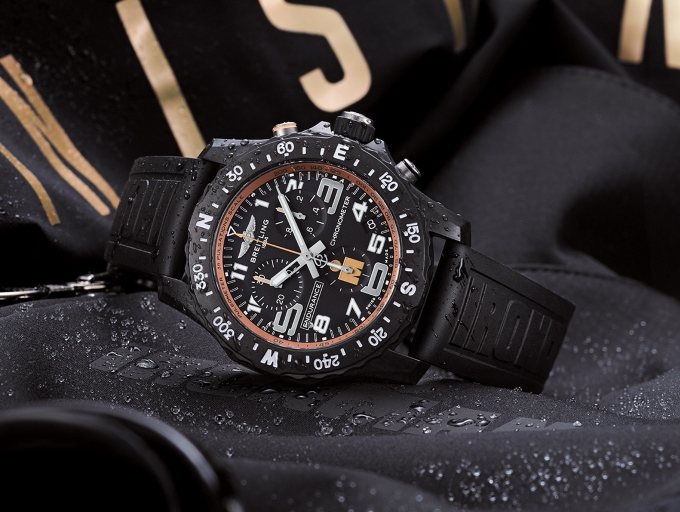 Designed for performance
The ultra-lightweight Endurance Pro IRONMAN and IRONMAN Finisher were developed for elite triathletes but work just as well as stylish sports chronographs for everyday wear. They're made of Breitlight®, a material almost six times lighter than stainless steel. They're also thermally stable (with a feel that's warmer than metal), while being scratch-resistant, non-magnetic, and hypo-allergenic. With their rubber strap and 100 m water resistance, the Endurance Pro IRONMAN and IRONMAN Finisher perform just as well in water as they do on land. And each one is powered by Breitling's Caliber 82, a COSC-certified SuperQuartz™ movement that provides exceptional accuracy. Combine that with their easy readability, timekeeping chronograph function, and solar compass, and you have a powerful motivator for crossing the finish line.
The choice of elite triathletes
Limited editions to mark the challenge
For the current race season, Breitling has introduced two limited-edition models as part of the Endurance Pro IRONMAN series, each presented in its race's distinct color scheme, with an IRONMAN-branded rubber strap, and the competition logo emblazoned at 6 o'clock. First, the Endurance Pro IRONMAN 70.3 World Championship in turquoise. Limited to 250 pieces, it marks the competition in Lahti, Finland. Then there's the special-edition Endurance Pro IRONMAN World Championship in blue. This 250-piece model recognizes the men's competition in Nice, France and the women's in Kailua-Kona, Hawaii. It's Breitling's premium Endurance Pro, crafted in high-performance titanium. Treat yourself to one of these special-edition watches as a reward for your achievement or let it be your incentive to conquer the challenge ahead. Either way, it's a keepsake that will serve as a constant reminder of all that you put in to becoming an IRONMAN.