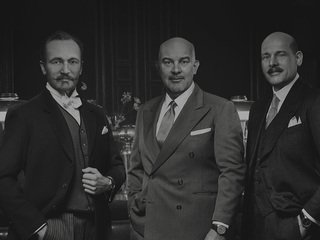 1880s-1930s
Chapter 1


THE ERA OF INVENTORS

Shaping the modern chronograph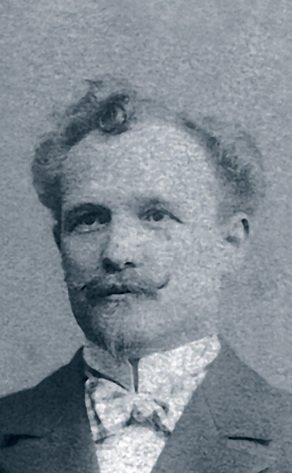 Getting into the watch manufacturing business in the mid-1880s was no easy feat. Switzerland was experiencing the worst part of a long recession. Yet, despite the economic difficulty, social unrest and uncertainty about the future, 24-year-old Léon Breitling stayed true to his vision of creating instruments that could measure, divide and master time.
This is how the Breitling brand was born. With passion and enthusiasm, our inventive founder created the useful, functional, reliable and sturdy timepieces we've come to know and love today.
1884
Léon Breitling opened his first atelier at Place Neuve 1, Saint-Imier. At this fabled address on one of the town's lively squares, he began to dream up, develop and produce his iconic watches. His designs led to patented innovations that gave Breitling its esteemed place in watchmaking history.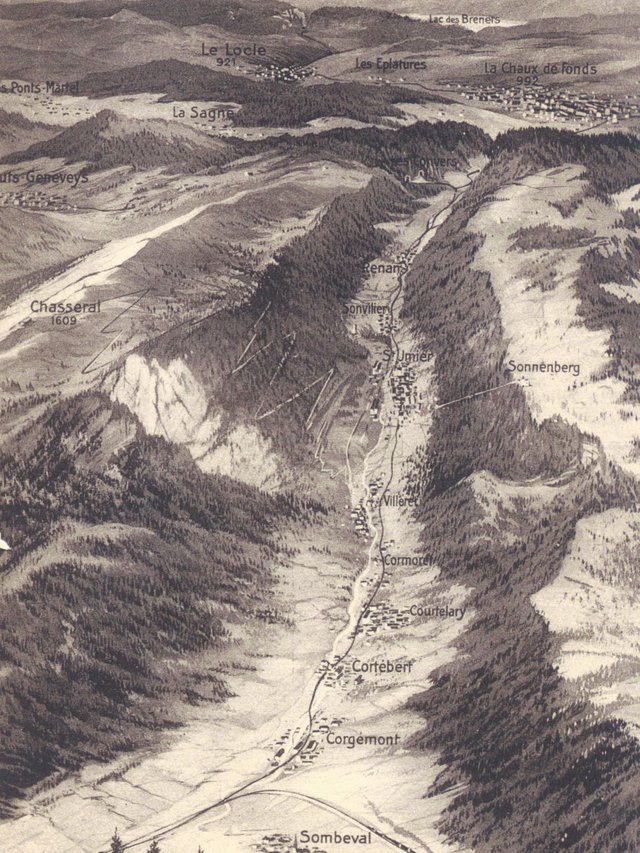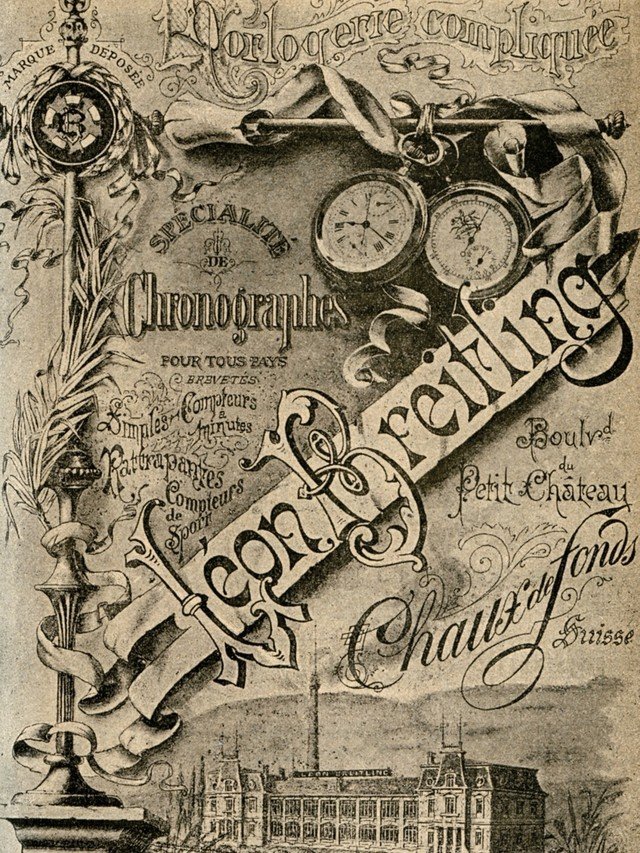 1892
With his increasing success, Léon Breitling decided to transform his workshop into a full-fledged watch factory. He moved operations to La Chaux-de-Fonds, the watchmaking capital of Switzerland, and of the world.
At the beginning of the 20th century, Breitling's wide range of top-notch chronographs and timers set the benchmark for the industry. Breitling timepieces were coveted by sports enthusiasts, athletes and aviation pioneers. He never stopped reimagining and optimizing his watches. In both his professional and personal life, he created numerous patents, some of which are still relevant today.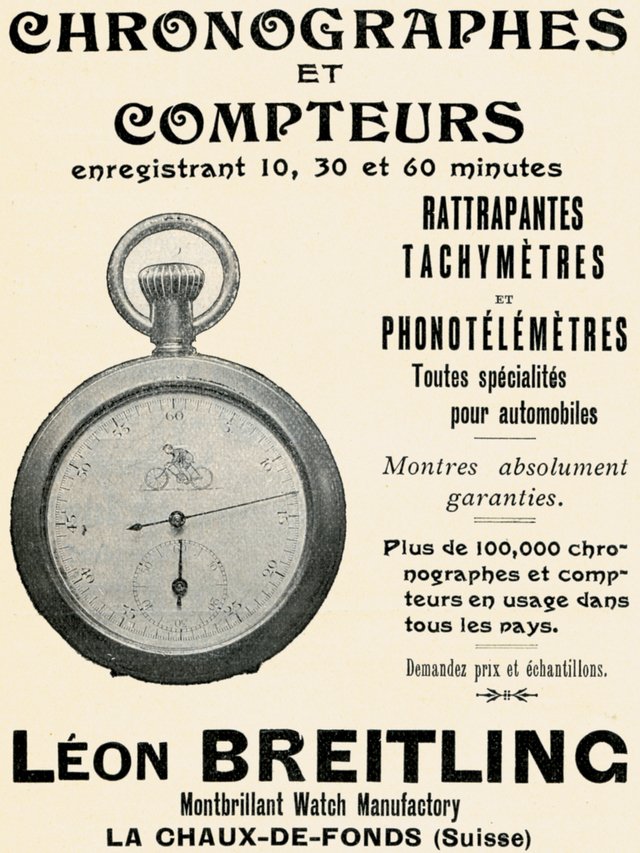 Did you know?
Léon Breitling was always ahead of his time. He understood the power of marketing and, in conjunction with his expansion, rebranded the company to "L. Breitling, Montbrillant Watch Manufactory."
1893
Breitling patented a movement with an astonishing power reserve of eight days.
That year, he also introduced the pulsograph, for measuring a patient's pulse. The invention, featuring a logarithmic scale ideal for the task, became instantly prized by physicians.
Three years later, Breitling reached another major milestone: a chronograph with two-fifths of a second accuracy, unheard of at the time. Within a decade, the company had sold more than 100,000 chronographs and stopwatches.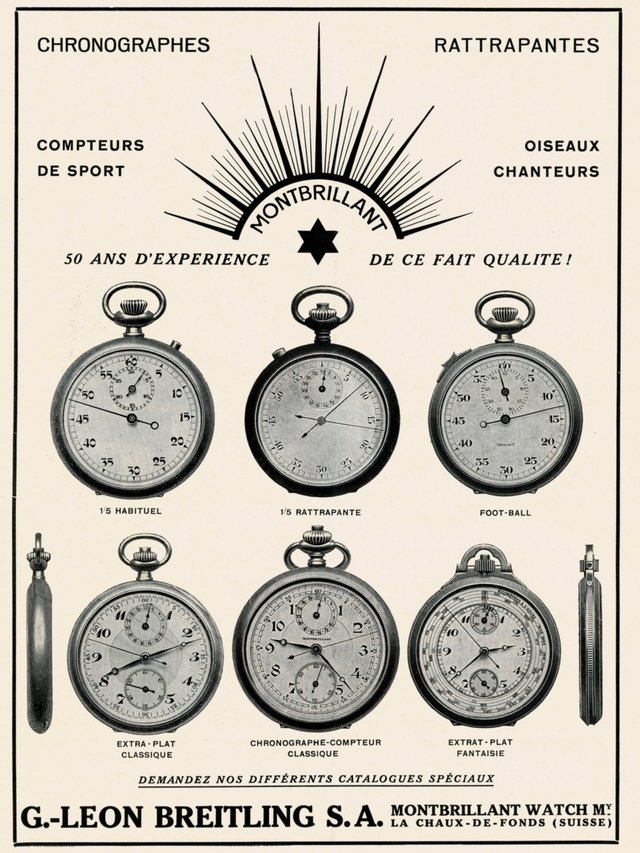 Did you know?
As an early adopter of marketing, Léon Breitling and his innovations gained fame by using a form of publicity known as réclame (or "claims"). In the first issue of the Revue Internationale de L'horlogerie et des Branches Annexes (the International Journal of Watchmaking and Related Sectors) published in January 1900, an ad sang the praises of Breitling's sports timers and chronographs. This included its split-second hand for timing two events at once, as well as its newly launched "8-day power reserve," a table clock that could run for over a week without winding.
1905
As automobiles became the preferred mode of transportation, Léon Breitling patented a pocket-watch tachymeter. A precursor to the vehicle speedometer, his easy-to-read speed scale slowed the seconds hand down to make one revolution around the dial in four minutes, allowing the user to measure any speed between 15 and 150 km/h.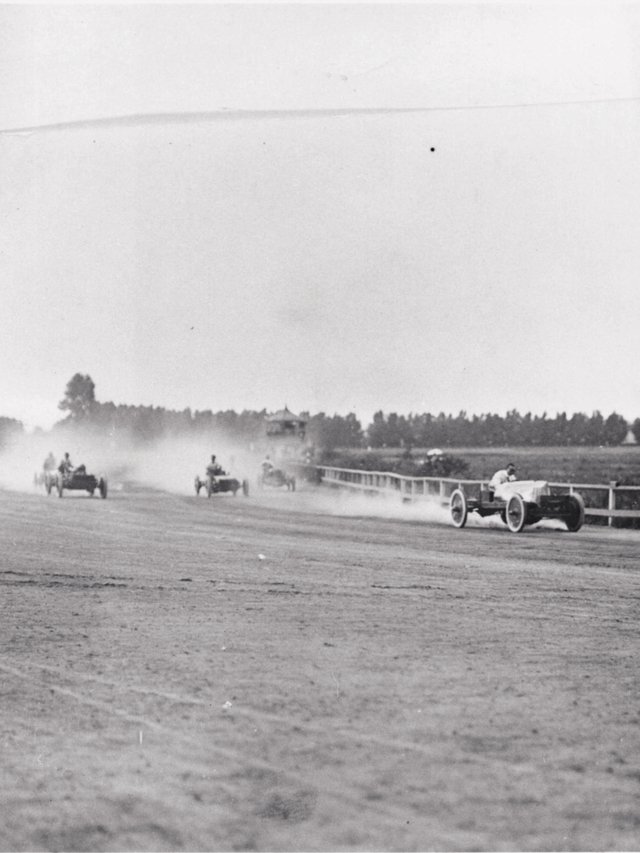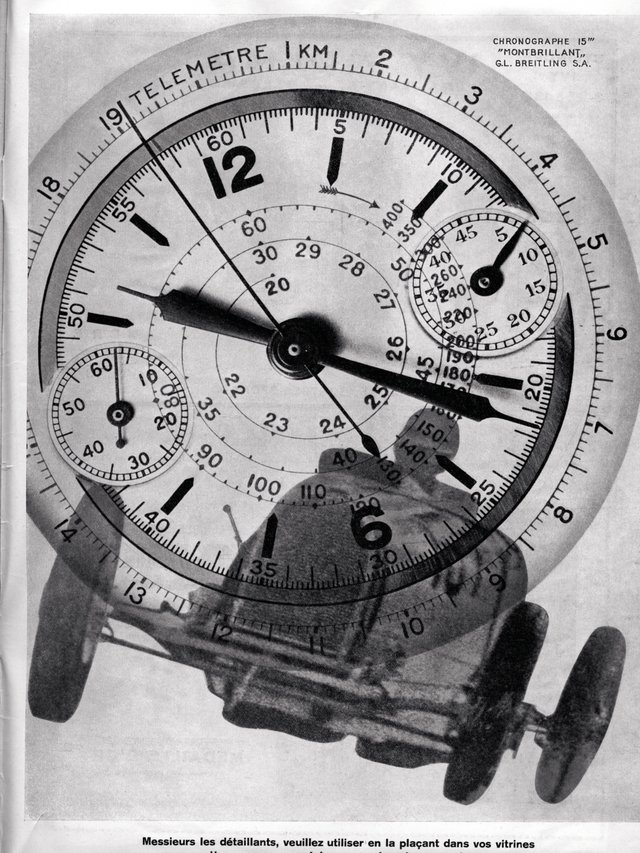 Did you know?
Léon Breitling's "Vitesse" pocket watch included his tachymeter innovation and was used by police officers in 1906 to issue the first speeding tickets in Switzerland. Yes, you have Breitling to thank for that "advancement"!
1914
Gaston Breitling succeeded his father and followed in his trailblazing footsteps by focusing on wearability. Gaston eventually created two major innovations that shaped the chronograph as we know it today.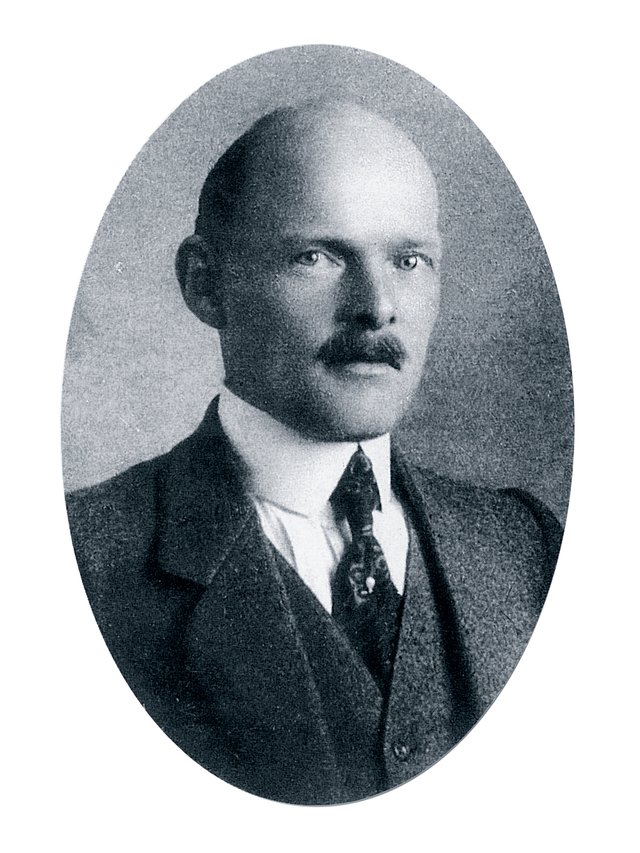 1915
Gaston Breitling created one of the first wrist-worn chronographs with an independent pusher at 2 o'clock. It separated the chronograph pusher (that controlled the three chronograph functions: "start," "stop," and "reset-to-zero") from the crown. This stroke of genius not only made the chronograph easier to use, but it also helped prevent errors by making the start function a very deliberate action, separate from any action on the winding crown.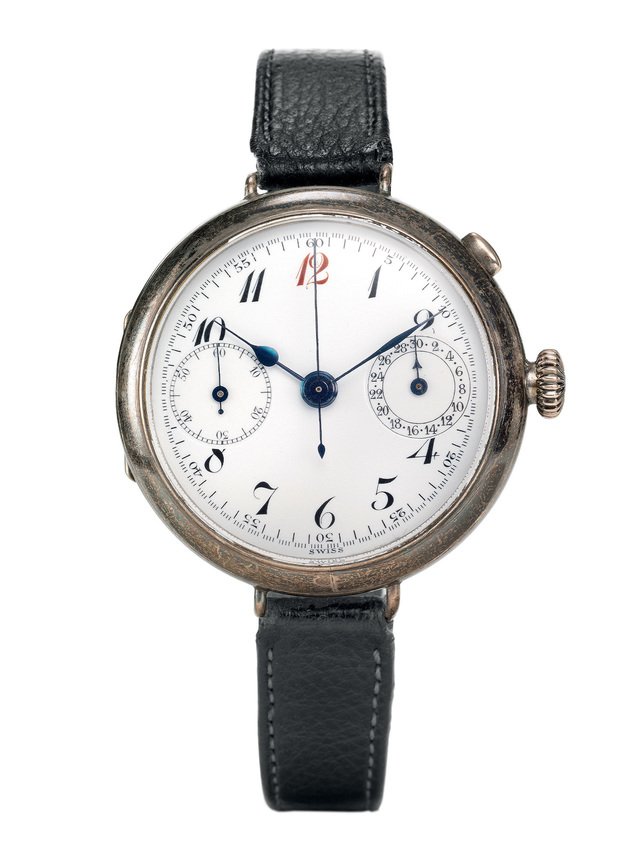 1923
Breitling further improved his chronograph control system by moving the "reset-to-zero" function back to the crown, while keeping the "start/stop" functions on the pusher at 2 o'clock. This patented innovation now allowed users to add several successive times without having to reset the hands to zero, whether to time sports competitions, scientific processes, or flights.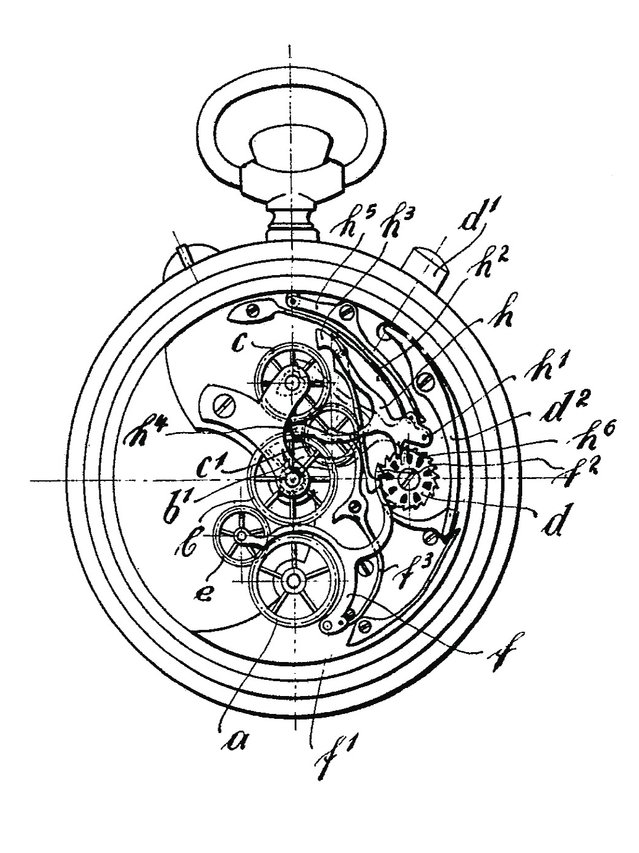 1932
Only 19 years old and fresh out of school, Willy Breitling took the helm of the family business, five years after his father, Gaston, had passed away.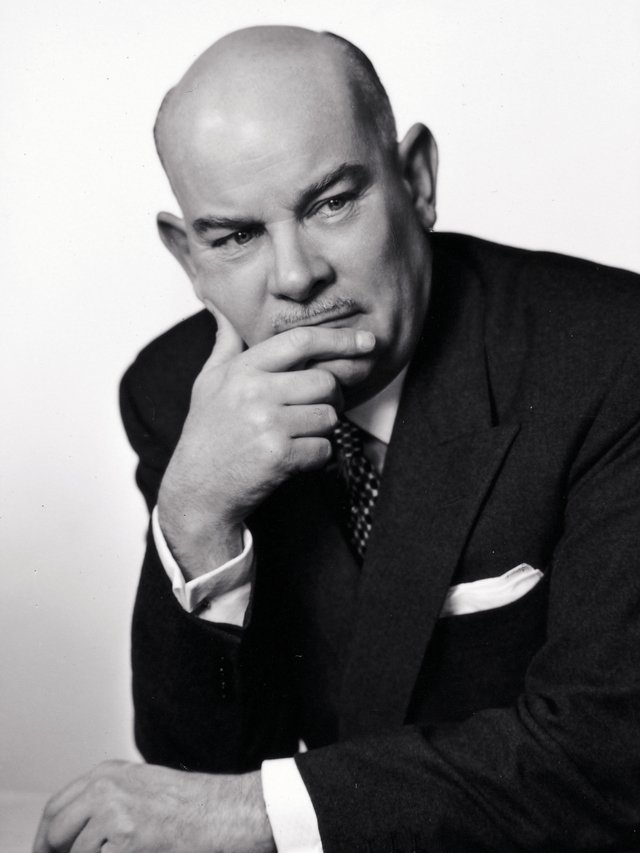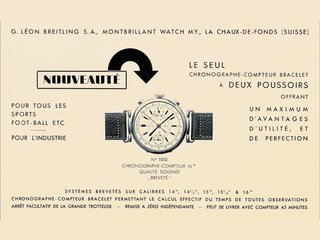 1934
The third-generation Breitling owner patented his own breakthrough chronograph function: a second pusher at 4 o'clock, dedicated exclusively to resetting the chronograph to zero. It was more than a functional improvement. This feature was the final stroke in developing the chronograph we know today, with two independent pushers on either side of the winding crown.
The 1880s to 1930s were marked by major technical inventions at Breitling. Precision and wearability were the order of the day. In innovation and design, this family of movers-and-shakers was always one step ahead. Willy Breitling would soon take marketing and product design to the next level. Leveraging the technical foundation laid by his father and grandfather, he would begin to name his products and push the limits of their design.