Information on water resistance
Water resistance levels are based on the maximum pressure tolerance of a motionless watch in still water at a certain depth (1 bar = 10 m = approx. 33 ft). This measurement provides a baseline, but it does not reflect how you use your watch in reality. As soon as you introduce activity (surfing, swimming, rowing) or currents (shower jets, river flows, waterfalls), the water pressure can increase drastically, regardless of depth. That's why a watch with 3 bar (30 m / 100 ft) water resistance is technically only equipped to withstand splashes. Breitling recommends the following activities for each water-resistance rating.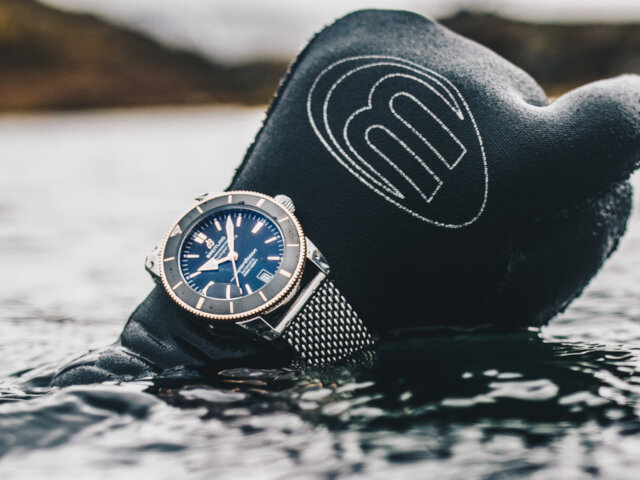 | | 3 bars / 30 m (100 ft) | 5 bars / 50 m (165 ft) | 10 bars / 100 m (330 ft) | ≥ 30 bars / ≥ 300 m (≥ 1000 ft) |
| --- | --- | --- | --- | --- |
| Splashing | | | | |
| Shower, swimming, surface water sports | | | | |
| Water-skiing, dives, snorkeling | | | | |
| Diving | | | | |
| | |
| --- | --- |
| Splashing | |
| Shower, swimming, surface water sports | |
| Water-skiing, dives, snorkeling | |
| Diving | |
MAINTENANCE OF SEALS
The water resistance of your case is ensured by a sophisticated system of gaskets. These seals protect your watch, not just from water, but from an array of external factors such as perspiration, heat, temperature changes, ultraviolet rays, chemicals, cosmetics and dust. Your watch's gaskets will, however, deteriorate over time. That's why water resistance cannot be permanently guaranteed. In the event of intensive use in water, we recommend a complete replacement of all gaskets as part of an annual maintenance service (ideally before swimming season).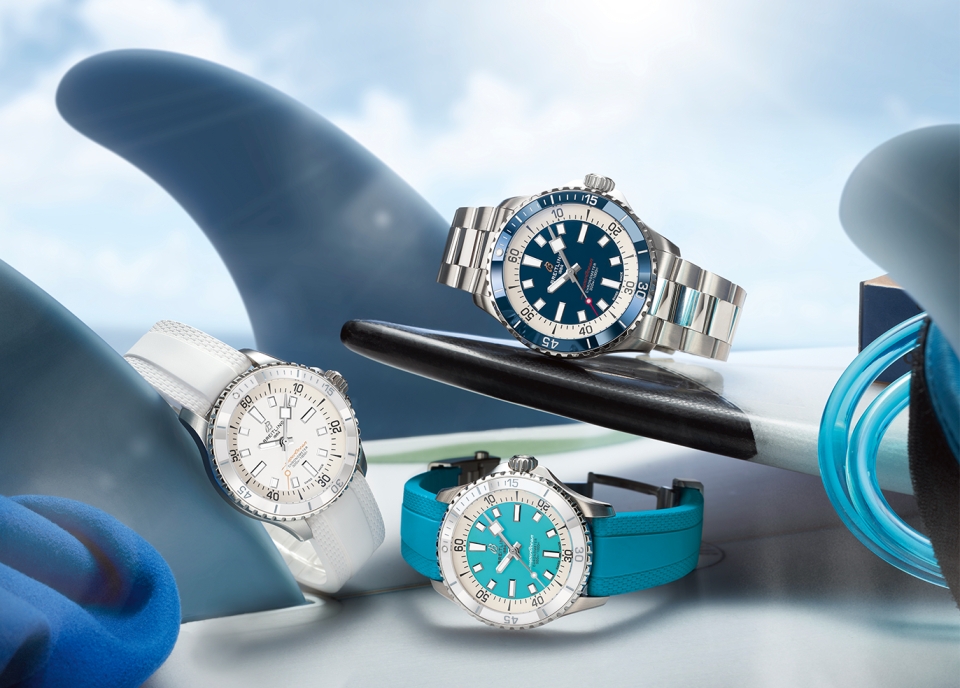 ESSENTIAL PRECAUTIONS TO ENSURE YOUR WATCH'S WATER RESISTANCE
1. Never activate the chronograph pushers underwater or when the watch is wet. The only exception is for watches equipped with dedicated patented magnetic pusher systems resistant to 2,000 meters.
2. Never pull out and use a crown underwater or if the watch is wet.
3. If you have a screw-locked crown or chronograph pushers, make sure they are screwed-in before exposure to water.
4. Never try to open your watch yourself. This can compromise the integrity of the case and/or displace the gaskets.
5. In the event of water or condensation under the crystal, take your watch to a Breitling retailer or an authorized service center immediately.
6. If you use your watch extensively in water, we recommend servicing it once a year for water-resistance testing and gasket replacement.
7. Avoid exposing leather and textile straps to water as it can damage these materials irreparably. Consider instead a metal bracelet or rubber strap for your water-based activities.
HELIUM ESCAPE VALVES
Watches designed for water resistant to extreme depths (>1000m) are generally equipped with helium escape valves.
These valves balance the pressure between the external environment and the inside of the watch by automatically venting helium when the internal pressure exceeds about 3 bars, thus preventing the case from exploding. Helium escape valves can generally be found on the side of the case.