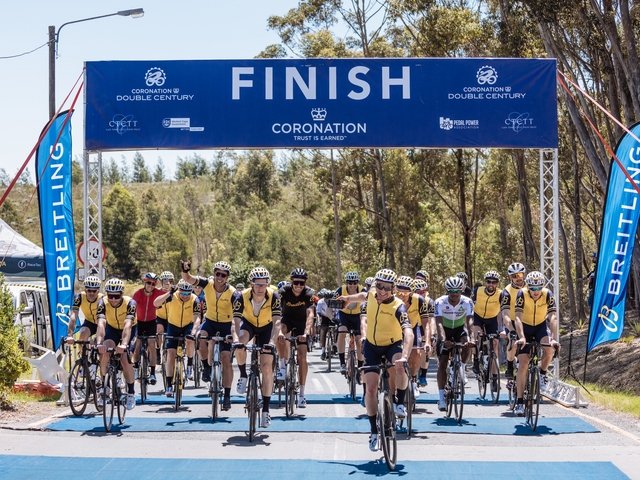 參與「百年靈行動隊支持QHUBEKA」的宣傳活動#SQUADONAMISSION FOR QHUBEKA
11月21日星期六,與百年靈鐵人三項行動隊共襄盛舉,參加「百年靈世紀自行車賽」(Breitling Century):無論您身在何處,騎乘100公里,在百年靈Strava俱樂部註冊。
自2018年以來,百年靈鐵人三項行動隊參與南非「踏板動力協會雙世紀公路自行車耐力賽」(Pedal Power Association Double Century),完成對南非慈善機構Qhubeka的任務。
2020年,我們的承諾一如既往,堅若磐石。我們將繼續捐贈數百輛自行車給交通困難的社區,百年靈鐵人三項行動也隊將參加「百年靈世紀自行車賽」,儘管我們無法親自出席。
加入我們!
#SQUADONAMISSION
加入「百年靈世紀自行車賽」
捐款給Qhubeka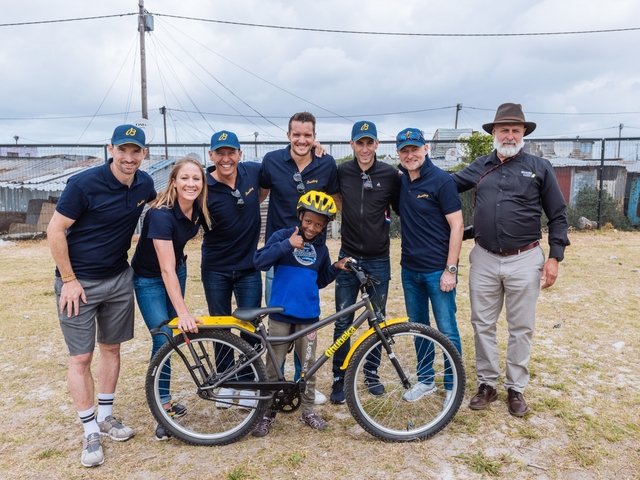 BREITLING AND QHUBEKA: PEDALLING INTO A BRIGHTER FUTURE
Breitling is proud of its partnership with Qhubeka. The South Africa based global charity provides bicycles to people living in communities with limited transport options. Qhubeka is a word that means "to move forward" and it is a worthy name for the organization. Bicycles are remarkable agents of change in remote areas: they allow their riders to get to the places they need to go and do things that are nearly impossible without transport, like fetching supplies, travelling to school or work, or providing emergency relief after a disaster. Breitling CEO George Kern is proud of the partnership. He says, "We have so much respect for the work Qhubeka does. They donate bicycles to people whose lives are changed in meaningful ways. A bike can take someone to school or work or a clinic – it can be, literally, a matter of life or death and we're thrilled to support Qhubeka's vision."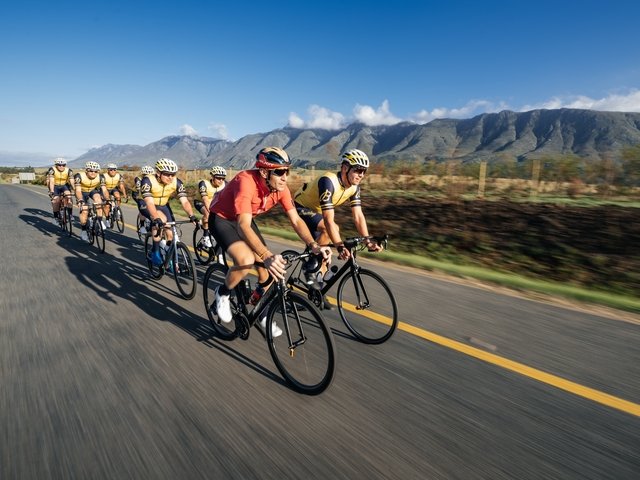 BREITLING AND ITS TRIATHLON SQUAD ON A MISSION
The members of Breitling's Triathlon Squad – Jan Frodeno, Chris "Macca" McCormack, and Daniela Ryf – performed their first shared mission in November of 2018 when they competed in the Coronation Double Century, a challenging grueling South African road race that takes its name from its more-than-200 km distance. A year later, they returned to Swellendam with Breitling CEO Georges Kern and some of cycling's greatest talents, including Swiss Ironman champion and duathlon specialist Ronnie Schildknecht, professional South African cyclist Nicholas Dlamini, and Italian bicycle racer Vincenzo Nibali, who is one of only seven people to have won the three Grand Tours (La Vuelta, the Tour de France, and the Giro d'Italia). They were all riding in support of Qhubeka and its life-changing work.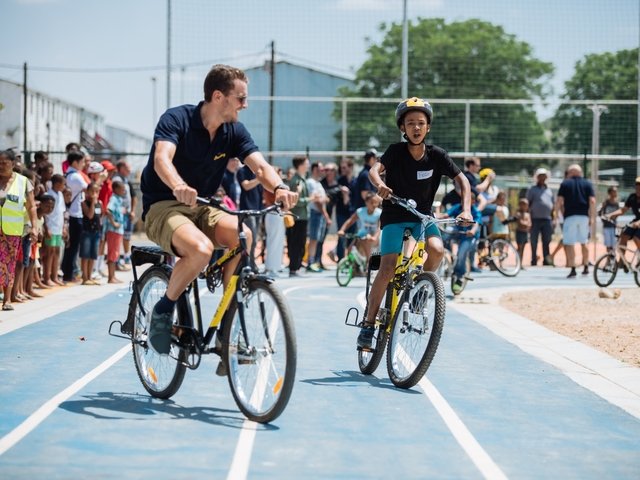 BREITLING AND QHUBEKA – MAKING A DIFFERENCE
After the members of Breitling's Triathlon Squad, CEO Georges Kern and their friends completed the Coronation Double Century, they took the opportunity to visit a Qhubeka community where the cyclists and special guests had a chance to see first-hand the positive impact the bicycles make on the lives of the local residents (#BicyclesChangeLives). Thanks to the funds raised by the Triathlon Squad's Mission, Qhubeka was able to distribute 100 Breitling-funded bicycles to 100 pupils at the Usasazo Secondary School in Khayelitsha, Cape Town, bringing the total number of bikes delivered to the school in 2019 to 350 under the Scholar Mobility Programme organized by Qhubeka and supported by Breitling. The school's pupils have signed 12-month contracts in which they pledge to commit themselves to academic performance and school attendance as conditions for receiving their bicycles.
At an official ceremony, the 100 bicycles were presented to the 100 pupils, who participated in a relay along with some of Breitling's guests. Breitling CEO Georges Kern said, "It is amazing to see what a difference a bicycle can make. Although we were exhausted after the race, meeting the pupils and seeing the Qhubeka team at work was a source of energy for all of us – and it was a great way to remember why we were there."