Information on water resistance
All Breitling products have a degree of waterproofing (or "water resistance"), described either in meters, or in bars (1 bar = 10 m = approx. 33 ft). Note: the indication of the degree of water resistance in meters is a technical norm which does not correspond to an exact depth. The note "Water-resistant to XX m" does not mean that the watch can be worn to this depth. It simply indicates that the watch will resist pressure equivalent to a static immersion up to XX m deep. The wearer's movements (diving, jumping, swimming, etc) as well as the force of the water (shower jets, river currents, waterfalls, etc) can considerably increase the pressure. The table below will indicate what activities are possible and what should be avoided in terms of the degree of waterproofing of your watch.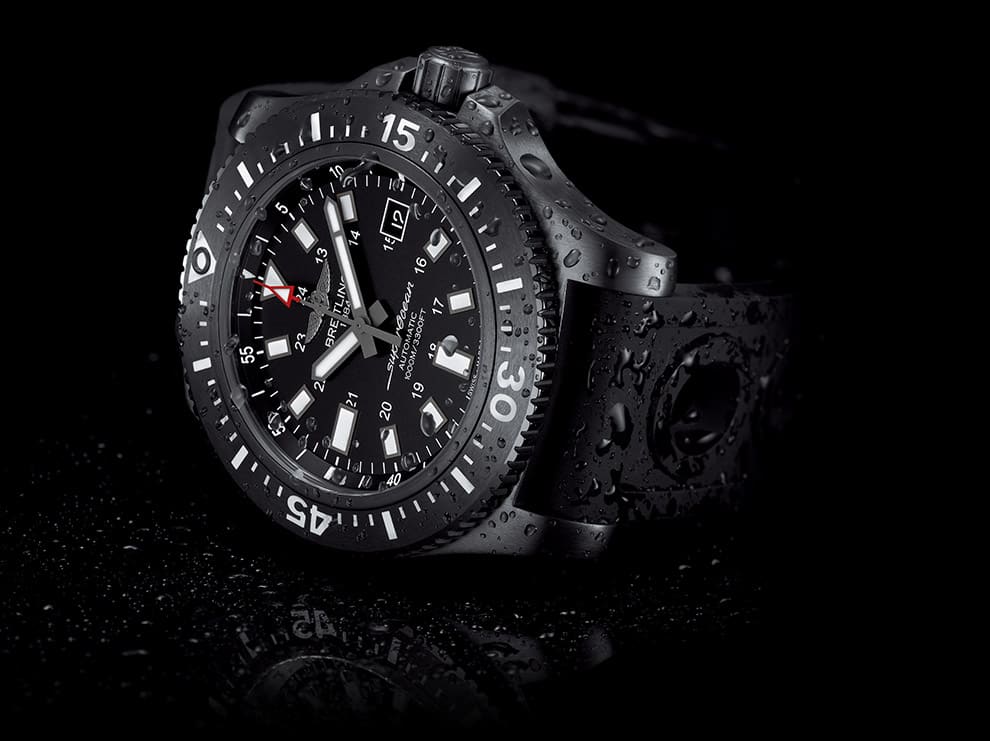 | | 3 bars / 30 m (100 ft) | 5 bars / 50 m (165 ft) | 10 bars / 100 m (330 ft) | ≥ 30 bars / ≥ 300 m (≥ 1000 ft) |
| --- | --- | --- | --- | --- |
| Splashing | | | | |
| Shower, swimming, surface water sports | | | | |
| Water-skiing, dives, snorkeling | | | | |
| Diving | | | | |
| | |
| --- | --- |
| Splashing | |
| Shower, swimming, surface water sports | |
| Water-skiing, dives, snorkeling | |
| Diving | |
Water resistance checks/Replacement of seals


The water resistance of the case is ensured by a sophisticated seal system. These seals undergo the ravages of a number of external factors (perspiration, heat, temperature changes, ultraviolet rays, chlorine or salt water, chemicals, cosmetics, dust, etc.). So that they can be as effective as possible, they need to be replaced regularly. In the event of intensive use in water, we recommend that all the gaskets be changed annually during the maintenance service. In other cases, this operation can must be done every two years (and imperatively when the battery is changed for electronic models). Generally speaking, it is advisable to have water resistance checks performed once a year (ideally before the swimming season) by a maintenance center/authorized Breitling retailer.
Five essential precautions in the realm of water resistance
Never activate the chronograph pushpieces under water or when the watch is wet (apart from Breitling models equipped with a patented magnetic pushpiece system that is water-resistant and works in water down to a depth of 2,000 meters). The same criteria apply to the rotating bezels (slide rules) of the Navitimer and Montbrillant models.
Never pull out and activate a crown under water or if the watch is wet (this applies to both standard and screw-lock crowns).
If your watch is equipped with a screw-lock crown, ensure that this is locked before any use in water. This also applies to screw-lock pushpieces.
Never try and open the case yourself.
In the event of water or condensation appearing under the glass, take the watch as quickly as possible to a Breitling retailer or authorized service center.
Never use bracelets other than metal bracelets and rubber straps in water.
---
Helium valve
Models designed to be water-resistant to great depths (1000 m to 3000 m) are equipped with helium valves. This ultra-professional element serves to balance out pressure differences between the exterior and interior. From an internal pressure of about 3 bars, the valve automatically vents the helium accumulated by time spent at great depth, thus preventing the case from exploding.
Screw-lock crowns/pushpieces
Models intended for use in water are generally equipped with "screw-lock crowns" – a guarantee of optimal water resistance. Prior to any intervention on the crown, it must be unlocked by unscrewing it and subsequently screwed in again to lock it. The same principle applies to "screw-lock pushpieces" which cannot be activated before the ring holding them in place has been unscrewed.