TOP TIME: THE CHRONO WAY OF LIFE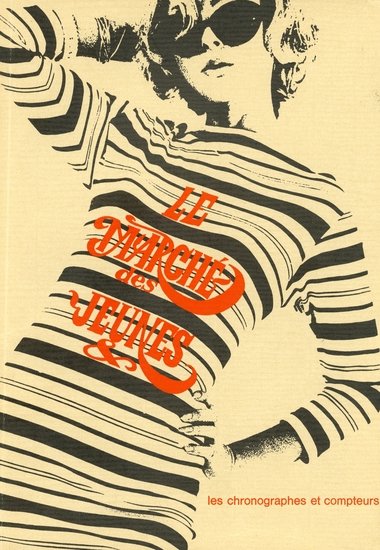 Leave the office early on a Friday, jump in your convertible, put some music on, head out to meet your friends, and dance to The Beatles all night long. The baby-boomer generation of the 1960s has a truly unprecedented energy and a desire to live extraordinary lives. Young people are pushing the boundaries and having fun, and just want to enjoy life to the fullest in the here and now.
Willy Breitling pays close attention to these changes – he has an intuitive understanding of how important it is to speak directly to this new audience to improve the image of the mechanical chronograph, a watch whose popularity is waning.
As the man himself states in early 1964:
We are sweeping into the field of youth and we are going to speak their language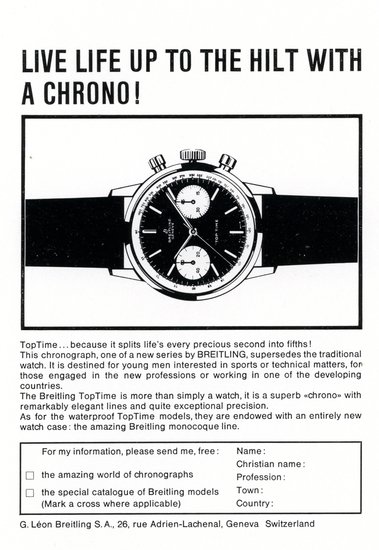 TOP TIME! LIVE LIFE UP TO THE HILT!
To complement the ever-successful Navitimer, a watch that is worn by some of the greatest musicians and sportsmen of the time, like Miles Davis and Graham Hill, (DISCOVER MORE ABOUT THE NAVITIMER) Willy Breitling works on a sportier and more contemporary collection, breaking with traditional design codes and perfectly adapting the new models to the dynamic lifestyle of the young people it is aimed at.
In fact, he has a very clear understanding of what this new clientele desires:
Young people won't buy the kind of watch dad wears. They will be interested in a competition watch with special dials and push buttons. A watch that will 'impress the boys' – a watch that is both impressive and really elegant.
In 1964, Breitling introduces the new Top Time after the first designs are presented already in 1962. It is an affordable chronograph with simple yet elegant lines and exceptional quality and precision – the perfect watch for young men and women interested in sports and technology.
The name of this new collection – Top Time – is deliberately kept short, catchy, and English to underline the modern design of the collection and the energy of the time period.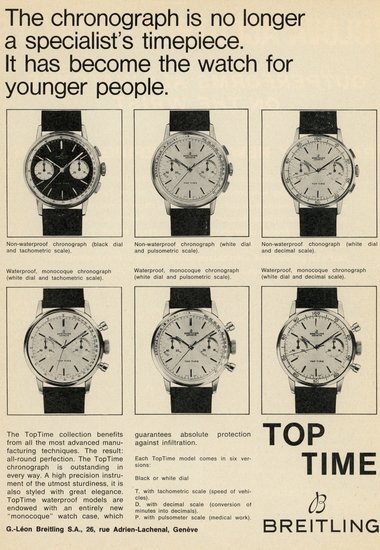 The success of the Top Time is instantaneous:
The Chronograph is no longer a specialist's timepiece. It has become the watch for younger people.
To make sure it is suitable for any daily adventures, the Top Time features improved water-resistance thanks to a monocoque construction. Customers can also choose between three different outer scales: tachymeter, pulsometer, or decimal.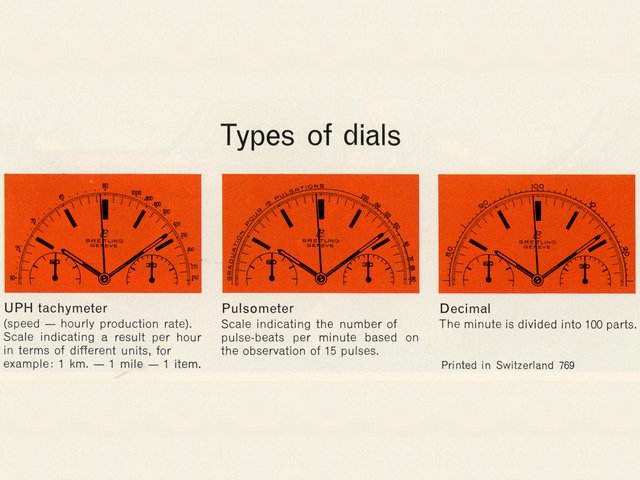 Tachymeter scale:
for drivers who want to calculate their average speed when racing.
Pulsometer scale:
for sportsmen who want to calculate their average heart rate after a run.
Decimal scale:
for anybody who wants to make timing easier by using a scale showing one-hundredths of a minute.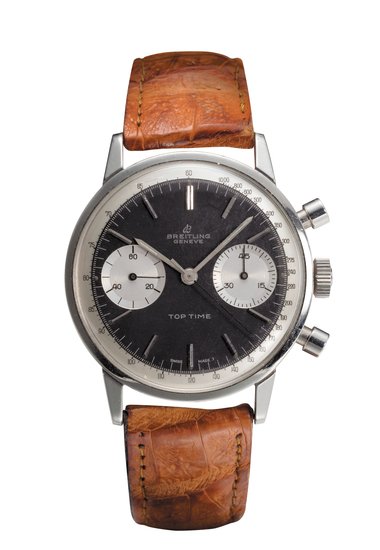 ONE OF THE MOST EXPENSIVE VINTAGE BREITLING EVER SOLD
One of the first references to be offered is the Reference 2002 with two subdials.
This model becomes hugely popular when it is worn by James Bond in the movie Thunderball in 1965.
The world's most famous secret agent is given a Top Time specially customized for his mission by Q – it even features an integrated Geiger counter. It's certainly a very stylish instrument!
Eventually, the exact watch worn in the James Bond movie was bought at a car boot sale for GBP 25 and sold at auction in 2013 for almost GBP 104,000, making it one of the most expensive vintage Breitling watches ever sold.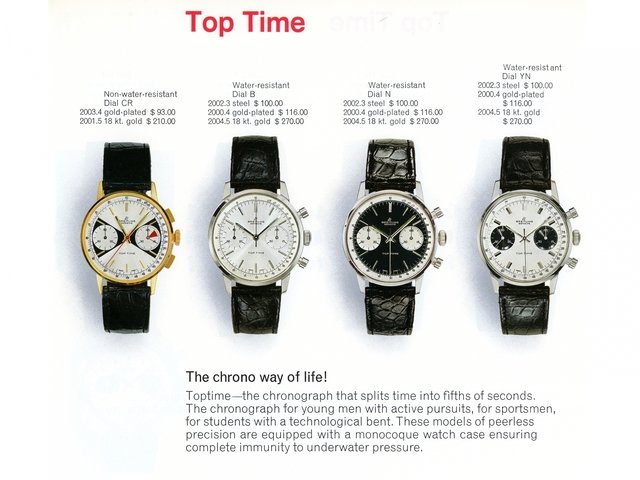 Always aware that style is key for the brand's young audience, Willy Breitling offers different dial variations of the Top Time, ranging from classic to more daring looks.
This new chronograph is available in different materials, including a sportier stainless-steel model, a more luxurious solid gold version, and a stylish gold-plated variant.
As a symbol of freedom and emancipation from established design codes, the Top Time is quickly adopted by young adults who don't want to wear the classic mechanical watches their parents wear.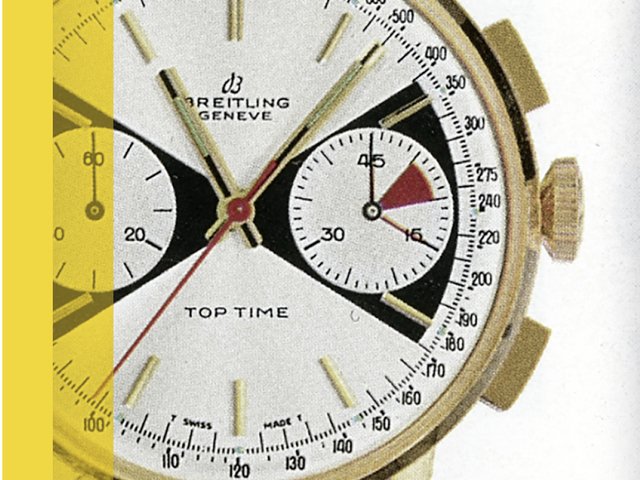 A FUNKY DIAL FOR TRENDY CUSTOMERS
Pushing design boundaries one step further, a very distinctive dial is offered that makes the Top Time the absolute must-have watch of the time.
This special design is nicknamed "Zorro" by today's collectors, and served as a design inspiration for Breitling's new Top Time Limited Edition.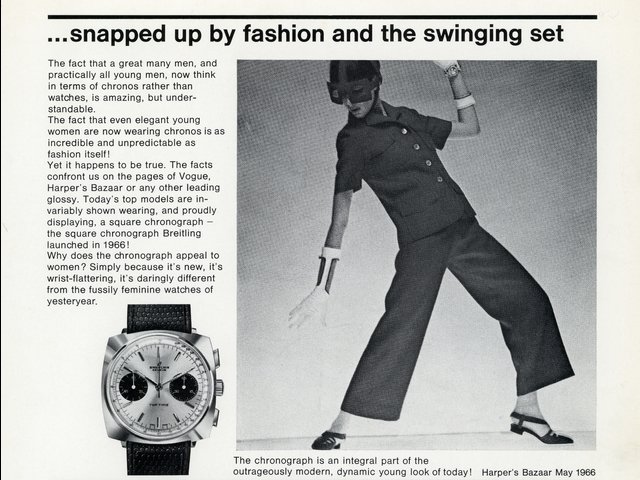 THE SQUARE TOP TIME – SNAPPED UP BY FASHION
Never resting on his laurels, Willy Breitling also wants to speak to a female audience and make the mechanical chronograph a desirable fashion accessory. He decides to make the Top Time design even more striking and comes up with a modern square case.
This model becomes an instant hit and is advertised in a number of contemporary fashion magazines, such as Harper's Bazaar and Vogue.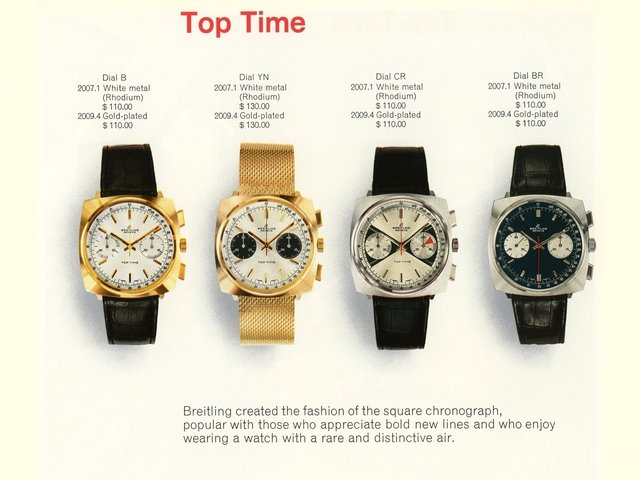 The square Top Time is also offered in numerous metal and dial variations, combining function with style and appealing to men and women who appreciate the bold lines of a chronograph with a stylish and distinctive twist.
The chronograph is now no longer just a functional tool – it is a way for the wearer to express their own style and stand out from the crowd.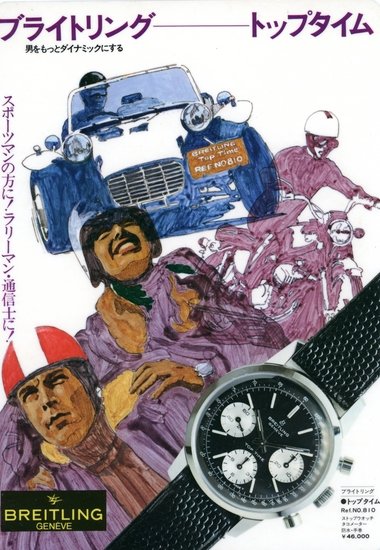 THE TOP TIME "LONG PLAYING"
With its simpler design and more affordable price point, the two-subdial Top Time is aimed at a younger audience. Willy Breitling therefore decides to further extend the Top Time collection with a more sophisticated three-subdial version for a more mature audience.
The Top Time Reference 810 is introduced in 1964, offering the same dynamism and refreshing design as the two-subdial version but with a touch more elegance and functionality.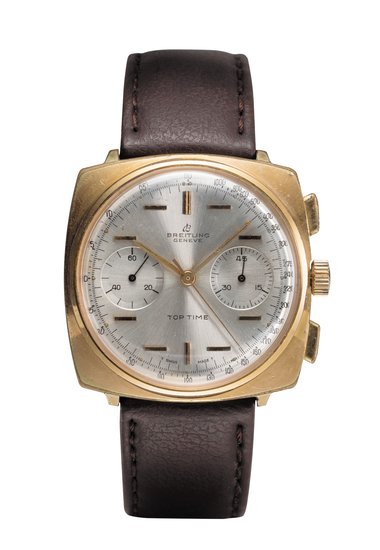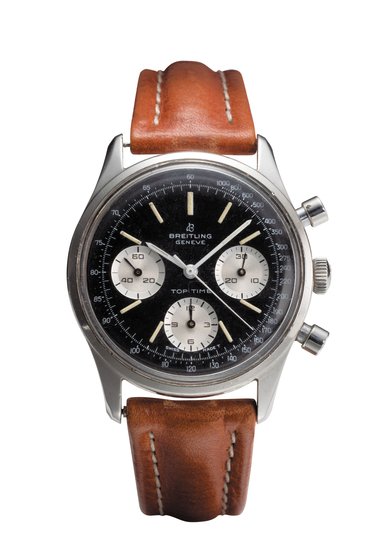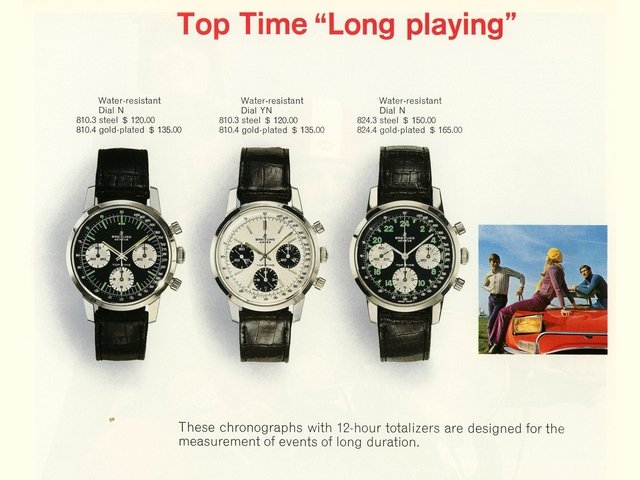 The first version of the Top Time Reference 810 has a very elegant case with smooth lugs and a clean dial design with white contrasting subdials.
Later, in 1967, the case evolves into a bulkier design, emphasizing the sporty nature of the watch.
Different dial versions are also offered, including a rare 24-hour dial made for travelers.
With its 12-hour totalizer, the Top Time Reference 810 is perfectly suited to timing events of longer durations, with later models even being nicknamed "Long playing".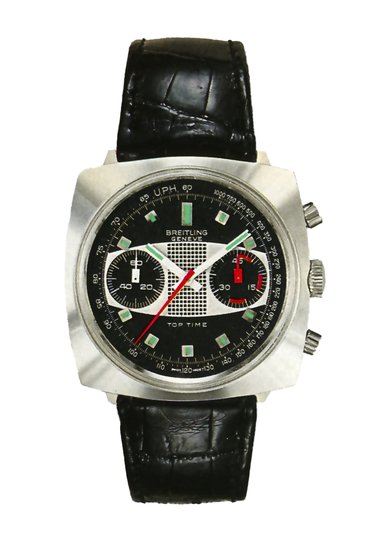 A TREND FOR EXOTIC DIALS
The success of the Top Time confirms Willy Breitling's belief that daring dials and exclusive case designs would make the mechanical chronograph a cool accessory for a younger audience.
In the late 1960s, some new Top Time variations are launched, including one with a "Racing" dial.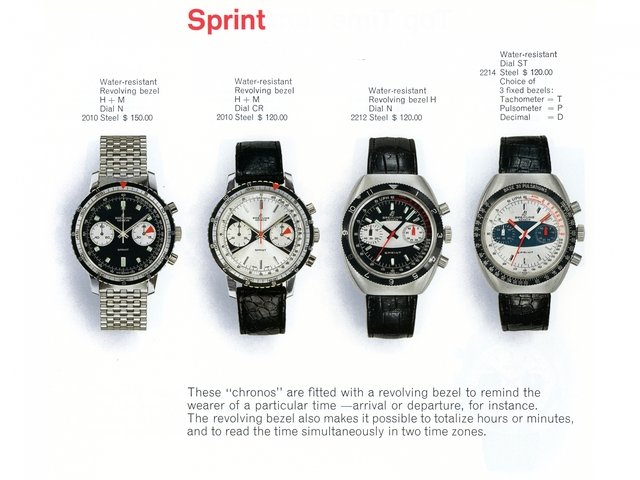 Alongside the Top Time, in 1967, Breitling introduces the Sprint, a model that features a rotating bezel to keep track of specific times such as departure times. This model also boasts a modern design and the exotic dials that made the Top Time such a success.
One of the most successful Sprint dial designs is the "Surfboard" dial, which has a large, colorful horizontal surfboard shape across the dial.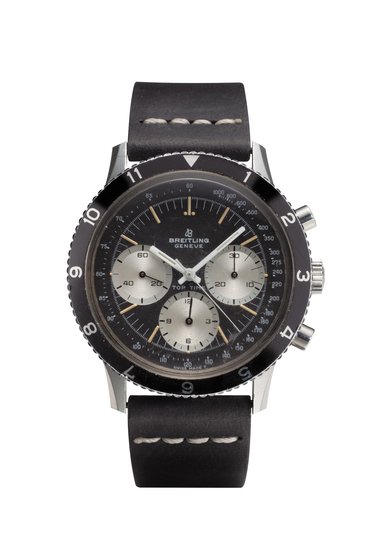 Following the trend for larger watches in the early 1970s, Breitling launches a larger Top Time with an impressive case diameter of 43 millimeters.
Interestingly, this Top Time takes some design elements, such as its rotating outer bezel, from the successful Co-Pilot model (DISCOVER MORE ABOUT THE CO-PILOT).
However, it keeps the inner tachymeter that made the first Top Time the ideal urban watch.
With this new Top Time, Breitling once again demonstrates its flair for adapting its products to reflect current trends and customers' lifestyles.
Today, the avant-garde designs of the Top Time and Sprint collections give Breitling a unique source of inspiration for many more cool new chronographs.